Little presentation
Who we are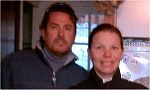 Here is an overview of our life story so far that might explain our passions and where we're at today.
Both Christine and I come from humble origins, as did our parents (may they keep on living a long and happy life). Whatever successes have or will come our way, we don't and won't owe them to any inheritance, but to hard work and determination alone. And we are proud of this.
Of course, just like anyone else, this has meant having our share of happy times, tough times, severe economic crises, but also some real accomplishments.


.. C'est la vie !
Both our careers have spanned just about every aspect of the hospitality business (restaurants, hotels & tourism). Really, we have done just about everything: from waiter to headwaiter, from barman to casual staff for prestigious Parisian caterers, big events or galas, from dishwasher to Chef, from banquet Manager and Maître d'hotel for Philippe or from maid to head-housekeeper, Night Audit to front office receptionist for Christine, etc...

We started as "lowly" employees at first – with lots of employers — at small French restaurants, moved up to the major French Hotels company and then to one of the world's largest American hotel & resorts corporations, before we decided and were able to become our own bosses.
We took all of our savings, enthusiasm and hopes, ready to tackle head first all the risks, obligations and responsibilities we knew awaited us, including accepting the loss of a lot of holidays the French are famous for. Ha.Ha.

Anything went faster then, in many developments of this work.
It soon meant for example, being a plumber or electrician at night, actually becoming a whole "how to" encyclopedia in order to ensure the perfect working order of our fully booked 40-room hotel ; organize banquets few days before with no stock, no rooms, risking on forecast to use terrace for it, etc..: service is everything.

Meanwhile, we were also working on the ergonomic/rational design and construction of a hotel for our restaurant near the largest Paris airport, the Asterix and Disneyland amusement parks, the Villepinte Exhibition Park and the famous Le Bourget business airport.


There you go… 30 years… and counting…


Very early on and throughout the years, we have been exposed to world cultures through meeting people from all over and we thank them for enriching our lives. Most of our exchanges were done in English and that's a good thing too! Years passing, we had to calm and slow down a bit but also wanted to concentrate on our childhood dream of living "in a castle" or at least a beautiful house, full of flowers, underground secrets, mysteries and legends…

2001 was the year we found the house. Call it coincidence, chance; anyway, we immediately saw opportunities. The decision to liquidate our shares, house and businesses in Paris was easy to make; we were going to be able to live our dream fully and get away from the crazy rhythm of the big city. Plus, we had a new project: undertaking by ourselves the restoration of a 500-year-old house. Our future B&B (and self-catering for longer stays) had been a true witness to the Renaissance period, is set in the most beautiful and convenient area of the Loire Valley and it looked incredibly charming even before we started working on it.

Actually, the place was perfect: we would be able to apply everything we had ever learned in business and in life while having fun doing it! We'd have a busy season that would help finance all the work needed and a quiet one to have the time to do it. And passion would take care of the rest.
Thanks to all of that, we have had, since 2009, opening our House (1st time since 400yrs she stayed private), the great pleasure of welcoming many people from all the world, who love France, the French "art of living" – that some even call "true art of life". And sharing with our guests all we know about Touraine, its world famous regional products, wines and cheeses, introducing them to the historical wonders of this fabulous region, also called the Garden of France, has been sheer happiness for us.

The Michelin Guide, has done us the great honor to select us, in its prestigious Guides :
- in their Great Red one, from 2011...
- in their Green Touristic Edition '' Chateaux of the Loire'', from 2017...

And thanks to all our (fantastic ) guests on Tripadvisor, we have gained a nice international reputation, which help us continue this wonderful adventure,with :
- "certificates of excellence", every years, since 2010
- A Great Award "Traveller's Choice 2014" (reserved to just "a happy few in the world"
- A award from our green management of the property : ''GreenLeaders'' with the level ''gold''
We are very touched by all these honors ...

We care every day, especially to not disappoint them.

We look forward to welcoming you soon ... A bientôt ... Philippe et Christine