He, soon, forgot Jeanne (even if he supported her rehabilitation trial in 1456), but glad feasting in the Chateau, to celebrate that date when it had all begun ... at the same place, on the terrace of the castle, as she returned victorious from Orleans ..
Among the small company of guests, the beautiful *** Agnes Sorel ("royal" mistress ), is in discussion with his friend, the King's Great Treasurer ( so titled in feb.1439 and knighted in avr.1441) : the wealthy and influential **** Jacques Coeur.
Looking him lovingly, she entices her "Little Roy" to join them to tell him of a project of great interest to her :
"- My Dear Sire, I require your help... I ask of Master Jacques the establishement in our good town of Loches, of a "little Argenterie" (sort of luxury shop). within our walls, and dependent of his large shop (also stock warehouse for exporting too, all the famous Loire Vlley wines) by the same name that he will finish at the end of this year 1444 near your home of Plessis-les-tours so he would be present to us first as Royal privilege the wonders he brings back from the Orient on his galleys. And, in fact, we could invite more often, all the great ladies of the kingdom, to show them our toilets and rich silky dresses made in these beautiful fabrics, precious stones set in superb jewel and all these surprising spices which are used by every lady in the kingdom for perfumes, remedies or food... What say you, Sire ? "
"- I reckon it is a grand idea, my love, and we must work at it once with Master Jacques ..but.. where would you put it, Jacques ..?"
"- Sire, I was telling Dame Agnes that one place alone seems perfect : it is in the small Fort St. Ours ..... under your windows, near the Court, protected from the noises and dangers of the town so the noble ladies coming with their Lords will be able to access it directly .
And Dame Agnes could then, through their Ladies, put forth the desired diplomacy to the lords, during these pleasant visits of fabrics, and jewelry."
"- But where? This little Sant Ours street is so narrow. "
"- Where stood the monetary workshop that I closed in 1431, after your majesty put me in charge of the mint and silver mining since we now mint closer to our mines for safer transport.
It has very good exposure, south facing for light, which was already essantial to the workshop, and all day from dawn to dusk, all the pretty things we will show will bask in sunlight.
Furthermore, I want to change the exterior of this austere house by modifying its aspect with fine, superb sculpting all along the façade and around the windows like my Italian merchant friends have their noblemen do in their country. They copy the sculptures we saw on cient monuments and ruins on the road to Damascus, during our trade travels as soon as 1431 with the Saracens from those far away countries.
Florentine Lords love them and buy these drawings to redecorate their houses ; they are beautiful I'm told, almost like a "Renaissance" of ancient Art. We shall do the same here as a precusor of this decorative modernity."
"- So be it !... it's yours, and will be the Maison de l'Argentier du Roy " (the king's treasurer House ).
Use it wellwith Agnès who will have her agreeable office with you to create her "Fashion "; may she influence greatly the Ladies of the Kingdom. We so love all these incredible hairdos, long trains and low-cut dresses that please both our senses and our time... "


What these three illustrious figures of the history of France, discussing together, did not know ...
...is that, in this middle of the fifteenth century, they had just launched
"Fashion and elegance, French vogue and style "
in all these variations of clothing, furs, jewelery
(the same year 1444, the king offers his beautiful Agnes, his "Lady of Beauty," for 20,600 crowns worth of jewels, (among wich is the first cut diamond, known to date)
, perfumes, hair-dressing and make-up new recipes ..
.. which made the splendor and fame of this new France in all the courts of Europe, at that time just out of the Middle Ages.
The present France is still the flagship World of Fashion ...
(Thanks Agnes.!)
And.. redecorating this facade of ancient sculptures might have been, in advance... 70 years ahead of the official French Renaissance so desired by Francois 1er, who came back amazed from Italy when he invaded it in ... 1515 ..!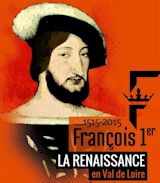 Today, The wall is still there in our garden as a unique piece of art ( 4 meters high, and 12 meters long, all sculpted originally conserved .! )