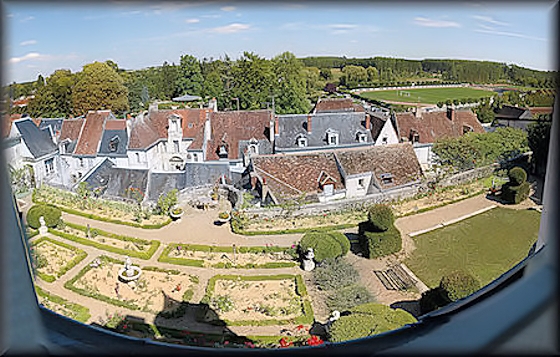 The smallest of our bed and breakfast room offer the highest (and best) view toward the Indre et Loire Valley, the Public Garden, and our garden on the old walls of the Fort St Ours (12th century).
There is a small bathroom, but complete with shower, sink and toilet. Hair-dryer, and Bathrobes completes the room.
A modern bed, quality upscale luxury hotel, 160 cm wide (queen size for a princess ...), for a perfect night sleep, sleeping height was raised to 60-64 cm for comfort when getting up ( 20 slat, high density HR35 high resilience, foam memory, fireproof, anti-dust mite mattress, etc ...)
Little for storage space inside the room with a small wardrobe and a dresser, but the landing of the tower serves as luggage racks and an extra Low chest of drawers.

This "Princess Nest" is the only one room in the house which have both tops from 2 of our 4 towers
The great Renaissance tower, courtyard-side, with its wide spiral stone staircase and the small corbelled turret garden-side, which allows a very picturesque small space
Her small work plan, is a place of fairy tale (the story of Princess Rapunzel with her long hair of the brothers Grimm is often in the comments)
The carefree romanticism of the time between the two world wars (1870-1914), the "Belle Epoque", floats in the air of that little
love nest accommodation
under the eaves.
(Of course, you will have to climb 2 floors of this nice stone staircase, but the steps are large and easy, and you may have a stop in the middle to admire the Royal Town Chateau on which you'll have a unic view)
We always have a thought for a family living in this house, at these dates and crossing 1st WW : Etienne et Jeanne Coyreau des Loges,
arrived in Loire Valley from their wedding
in may 1910, had 4 of their 6 children born in the house, in 1911, 1914, 1915 & 1917 ; they left us the 1 st official photography of the house in the garden :

Etienne served during 14-18 World War with 113e régiment d'infanterie (5e corps d'armée).He was decorated with the War cross.