The colors of the room are yellow vanilla blondness of the tufa local stone, wooden panellings restored on walls and fine medieval tapestries, and patterned fabrics of golden "lys" interlaced with deep blue .
It's a nice room with a "king Size" bed, 180 cm wide, Luxury hotel quality, for maximum comfort with height raised to 60-64 cm for guest comfort at getting up time.(20 slat box springs, fireproof, anti dust mites, very high density , high resilience HR35, foam memory mattress).
In this Bed & Breakfast bedroom, there is also a small fridge, for freshdrinks comfort, and our traditional welcome tray with selection of teas, coffes, decaf, biscuits(cookies).
Plenty of storage space: with a large closet in the entryway, a beautiful Renaissance dresser in the bedroom, and a large dressing table and many glass shelves in the bathroom.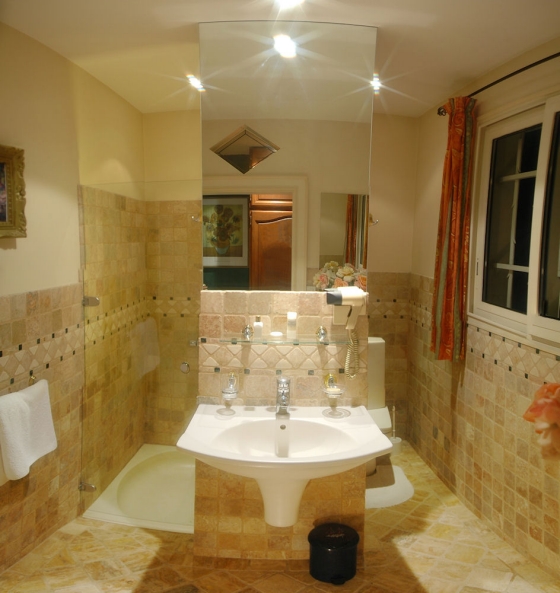 To keep with the natural regional stone look, the bathroom combines modern comfort with the beauty of old stones.
Everywhere, warm, rustic, thick travertine as a little nod to the Romans who around 450 AD set up their "oppidum" (house) , where our house now stands.
They founded "Lucca" to be the future "Loches".
Timeless, this stone goes very well with our modern French designed sanitary potteries. Refreshing in summer, the shower will make you feel close to the Mediterranean ...
There is hairdryer, and soft bathrobes, as in all our rooms.
This bed and breakfast bedroom old stone floor tiles, brought from an Italian abbey in Tuscany, dated 14th century decided us to enhance its restoration back in the spirit of the Argentier du Roy was.
The Renaissance Spirit of Jacques Coeur, with his incredible advance for style, sens of Luxury for Arts, tapestries, Jewelry (he found for his king the first known faced diamond, to be offered to Agnes Sorel ), he brought for himself too, from orient, like his competitors Italian merchants, some sketches of ancient monuments, to include in his own houses .
In Italy, this style (created massivly during 15th century was called - il Quattrociento-), but arrived officially in France, only 80 years later ; from 1515, when another king ' Francois 1st ' invaded Italy, discovering these magnificents architectures styles, decided to bring it back in his country...(he brought Leonardo da Vinci too, who became his friend and offered him ' Mona Lisa ') . Jacques Coeur had the feeling for the business oportunities too, maybe too much . Loaning money to the king and all the court nobles helped a lot jealousy and lust to create a conspiracy against him. Wrongly accused (was no-sense, and agreed so by the king after his death), he was tortured in prison to have poisoned Agnes Sorel, the king's mistress ; but, he never agreed, and stayed jailed. Then his 'novel' life still continued after his jail escape.
Jacques Coeur had an incredible life, which could fill many novels !
- he, financed the king to end, with Joan of Arch, the hundred years' war. He was very close friend with the King's mistress Agnes Sorel. He was probably precursor, at this end of medieval time, of the arrival of Renaissance period . With Agnes, together, they brought new Art movements in a new France, showing huge creativity in Fashion ( France's Luxury industry of today owes them a lot ), in all the "good life" sectors : Cuisine and Gastronomy, Wine Culture, spices and fragrances to create news perfumes, cosmetics and many other beauty avant-garde ideas. He was a modern entrepreneur for these times, and a very clever one, thanks to his multiple journeys to the Orient with italian merchants. He had become wealthy importing luxury and products unknown in these parts and selling them all over Europe. As a modern "marketing & logo communication" precusor, his coat of Arms were suggesting his name ( "St Jacques" is the french name for "scallop shell", and "Coeur" means "heart" in French ). Always very active in hundreds of businesses with many associates and many partners in that "new" France.

He had a motto he put on his Coat of Arms , ( we still use it for ourselves today when work become heavy...) It could be translate : "To the valiant heart, nothing is impossible" or "Where there's a will there's a way"
- Her, Agnès Sorel, creating dresses, new make-up, haidressing, shoes, ...was copied by all the kingdom's noble Ladies, to be " à la façon " (in french , means "be same as "), the french expression became " fashion " in English courts, and generic today. She also was very influent in the royal court, politicly very present and consulted by the king . They both inspired, the French "Style of Living well", and the "Art of Living"

Joan of Arch meeting Charles VII, Chateau of Loches, May 1429